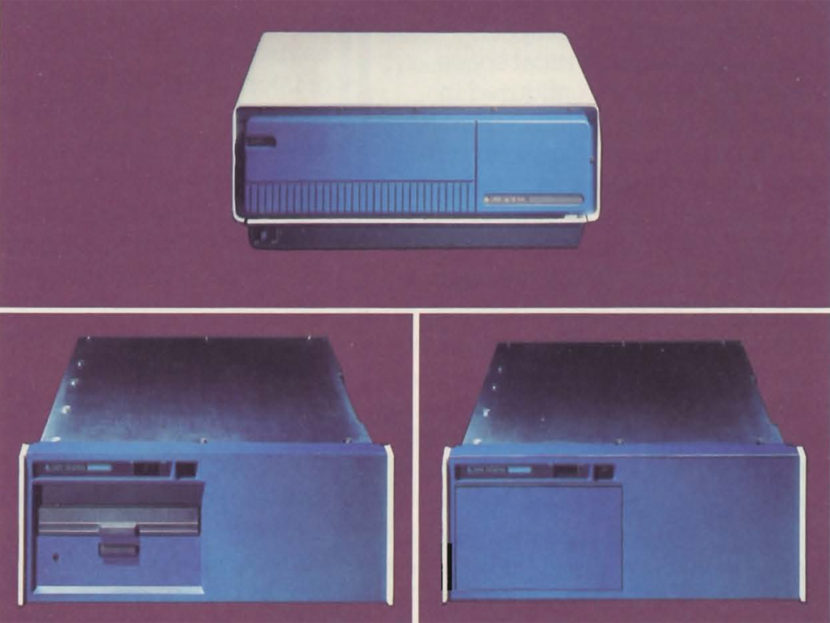 Data General's 5MB and 15MB non-removable discs are economical compact, data storage subsystems featuring cost-effective, reliable "Winchester-type" technology.
The Model 6220 Series discs offer reliable and unobtrusive operation in small system installations, whether located in the executive office or on the manufacturing shop floor. This is due to their compact design, centered around an eight-inch-diameter disc, as well as low noise, low power consumption, and minimal heat output. No preventative maintenance is required.
The Model 6220 Series is a family of disc subsystems that offers many combinations of data storage capacities, system interfaces, and packaging options. Each subsystem includes a disc drive, controller, power supply, and all necessary cables (power and system interface) for connection to popular Data General computers. Users can choose between 5MB or 15MB of data storage. The discs are connected to microNOVA, NOVA, or ECLIPSE computers through their data channel interfaces. The discs are available as table-top units and as rack-mount units. A 1.26MB diskette is optionally available on the rack-mount units for disc back-up and file transportation. An add-on diskette is also available for later expansion of a rack-mounted disc if it was initially purchased without a diskette.
The Model 6220 Series discs give the user a compact data storage system that provides configuration flexibility. Further, it has improved reliability and serviceability, and minimises total cost of ownership.
FEATURES
5 Mbyte and 15 Mbyte capacities
Table-top or rack-mount packaging
Reliable Winchester technology
Compatible with microNOVA®, NOVA®, ECLIPSE®, and Commercial Systems (CS) computers
Choice of optional 1.26 M byte diskette or 15.4 M byte cartridge drives
Self-contained diagnostic logic supported by Data General diagnostic software
Supported by Data General operating systems: MP/OS, MP/AOS, RDOS and AOS

ENSURE CAPACITY
The 5MB and 15MB capacities of the Model 6220 Series disc subsystems are ideal for applications typically found on desktop computers and low-end small business systems. They are also appropriate for standalone and clustered word processing systems and for other special-purpose systems such as process and numerical control, computer-aided design, component test, and point-of-sale systems. An average access time of 75.5 milliseconds more than satisfies the typical performance requirements of these systems.
Capacity over the long term is also ensured as data storage requirements increase. Data General's system software supports as many as two of the 5MB or 15MB subsystems. The inherent reliability of Winchester-type technology used in the design of these disc subsystems helps ensure that capacity will be available when needed.
PROVIDE FLEXIBILITY
The packaging options of the Model 6220 Series discs provide configuration flexibility. Compact, table-top packaging with an integrated controller matches the data storage requirements of Data General's desktop computers.
Even the rack-mount packaging for larger systems remains compact. Only seven inches of vertical space is needed for systems configured in a cabinet. Since it is identical in size to DGC's rack-mounted diskette subsystems, the rack-mount package also serves as an excellent capacity performance upgrade for systems using diskettes for primary storage .
An optional 1.26MB diskette drive or 15.4MB cartridge tape unit provides for disc back-up and file transportation. Because they mount in the disc drive chassis, no additional rack space is required.
Configuration flexibility is further maximised by Data General's computer and software support for these discs. The Model 6220 Series discs can be configured with Data General's MPT, MP microNOVA, NOVA 3 and 4, ECLIPSE, and the Commercial System (CS) computers.
Software support includes MP/OS, MP/AOS, RDOS, and AOS.
INCREASE RELIABILITY
The Model 6220 Series discs use proven, reliable "Winchester-type" disc technology. The head-disc assembly is environmentally sealed to prevent contamination from airborne dust and dirt. The aerodynamically-designed read/write heads can operate much closer to the lubricated disc surfaces in this "clean" environment, increasing the density of information that can be recorded onto a disc. Crashes of read/write heads-often caused by dust and dirt build-up-are far less likely to occur.
The controllers of the Model 6220 Series discs further enhance reliability by integrating all data search and transfer functions on a single board. Large Scale Integration (LSI) technology is used to reduce the number of board etches, wires, cables, and connectors.
Data integrity is ensured throughout data access and transfer operations. Cyclic Redundancy Check (CRC) information is appended to every block of 512 characters as it is written on the disc. The controller evaluates CRC information to ensure that every character read from the disc is identical to the character previously written to that particular location on the disc.
IMPROVE SERVICE
The Model 6220 Series discs maximise field serviceability and reduce maintenance time and cost. The controller contains extensive diagnostic logic for itself and the disc drive. A comprehensive set of diagnostic commands are implemented in the controller's hardware, and are fully supported by Data General diagnostic software.
REDUCE COSTS
Data General's Model 6220 Series discs compare favourably in price to competitive non-removable 5.25 inch diameter discs of similar capacities, but offer significantly more performance. The favourable price/ performance of the Model 6220 Series is achieved, in part, by extensive use of LSI components within the drive electronics.
In addition, the mechanical design of the disc also exploits a form factor that does not force "miniaturisation" and, thus, minimises the number of expensive miniature components, such as read/write heads, required in the design.
As economical to own as they are to buy, the Model 6220 Series discs do not require any scheduled preventative maintenance. There is not even an air filter to change. Data General's low monthly maintenance charges reflect the inherent reliability of the "Winchester-type" technology used in these discs.
SPECIFICATIONS 5Mb Models (6220 and 6225)

Capacity: 5,017,600 bytes
Transfer rate: 625,000 bytes/sec
Latency (Rotational): 9.5ms AV
Head Positioning 15ms (Single Trk) / 66ms (1/3 Stroke) / 122ms (Full Stroke) 
Access Time: 75.5Ms AV
Rotational speed: 3155 RPM
Recording Density: 6500 BPI 
Track Density: 200 TPI 
Track: 10,240 bytes (245 p/surface)
Cylinders: 20,480
Sector: 512 (20 per Track)
Heads: 2 (1 per surface)
Recording Method: MFM
Sector Interleaving: 1 in 3 
SPECIFICATIONS 15Mb Models (6222 and 6227)
Capacity: 15,052,800 bytes
Transfer rate: 625,000 bytes/sec
Latency (Rotational): 9.5ms AV
Head Positioning 15ms (Single Trk) / 66ms (1/3 Stroke) / 122ms (Full Stroke) 
Access Time: 75.5Ms AV
Rotational speed: 3155 RPM
Recording Density: 6500 BPI 
Track Density: 200 TPI 
Track: 10,240 bytes (245 p/surface)
Cylinders: 61,440
Sector: 512 (20 per Track)
Heads: 2 (1 per surface)
Recording Method: MFM
Sector Interleaving: 1 in 3  
5.25-INCH DISKETTE DRIVE 1.26Mb (Model 622X-D Only)
Capacity: 1,261,568 bytes
Transfer rate: 62,500
Latency: 83.3ms AV
Access Time: 180.3ms AV
Rotational speed: 360RPM
Recording Density: 6816BPI
Flux Density: 
Track Density: 48TPI
Cylinders: 16,864
Tracks: 8,192
Heads: 2 (1 per surface)
Recording Method: MFM
Sector Interleaving: 1 in 1  
INTERFACE
micro I/O bus (Models 6220 and 6222)
NOVA/ECLIPSE BUS (Models 6225 and 6227)
micro BMC (Model 6224)